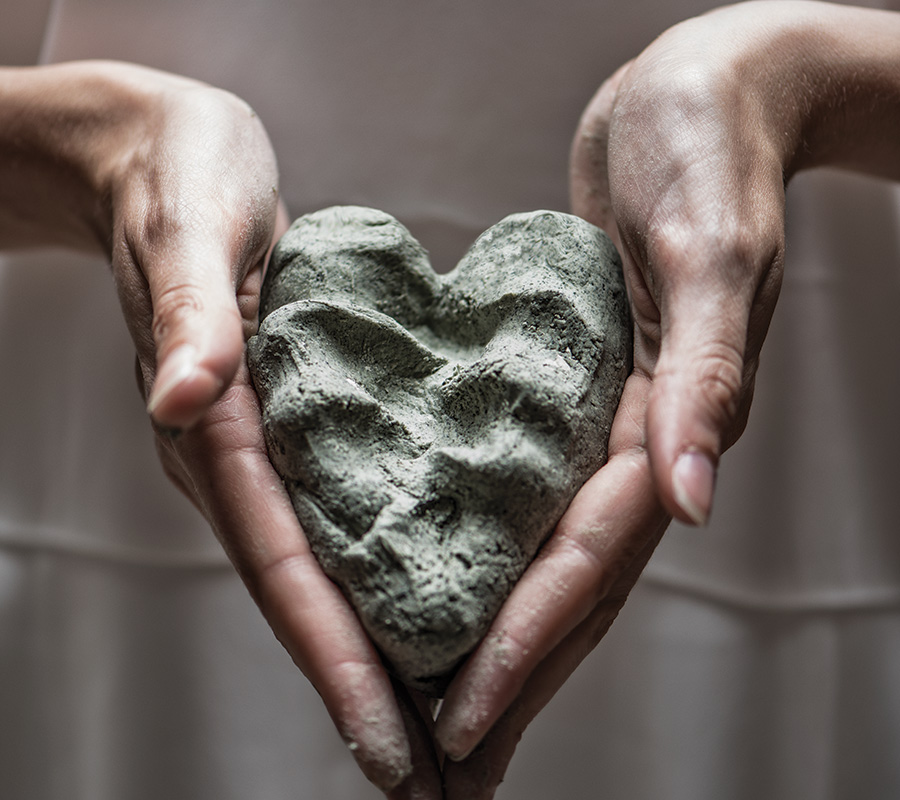 Born from the sea, from science, and from our experience.
SEA • SCIENCE • SENSES
SEA: THE PAST
Formulations made from precious elements
that come from the sea.
SCIENCE: THE FUTURE
Intensive research, development, and experimentation
of new, innovative active ingredients.
SENSES: THE PRESENT
Beauty Rituals that give rhythm to the ordinary gestures of the hairdressing salon, enhancing appreciation
of the professionalism of our Hair Ekspert.
TALASSOTHERAPY

From the Greek word Talasso (the Sea). Eksperience Talassotherapy is a distinctive service given in the salon. It is a multi-step system (consisting of purification, remineralization, cleansing, and application of the treatment) that has a FILL-UP effect, delivering energetic substances that act on the structure of the hair.
The range of treatments for the anomalies of sensitive scalp, excess sebum, hair loss and dandruff. They use activemuds and essential oil extracts in combination with Eksperience Beauty Rituals and massages.
RECONSTRUCT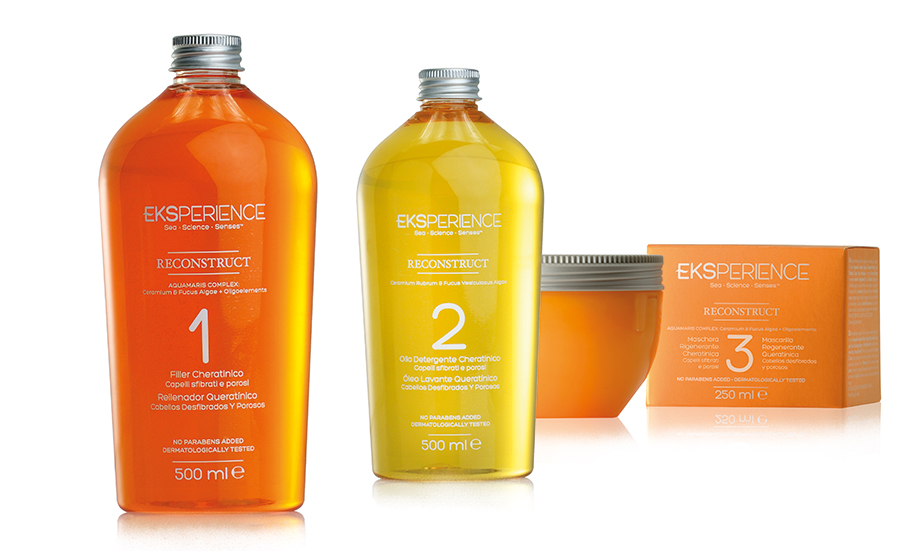 The strength of the hair is constantly being undermined by various internal and external factors. The result is destructured hair that looks dry and dull.
The solution is EKSPERIENCE RECONSTRUCT, the professional treatment formulated with ingredients that help to reconstruct the hair fiber, giving back elasticity and softness to hair has become destructured, porous and thin.
BOOST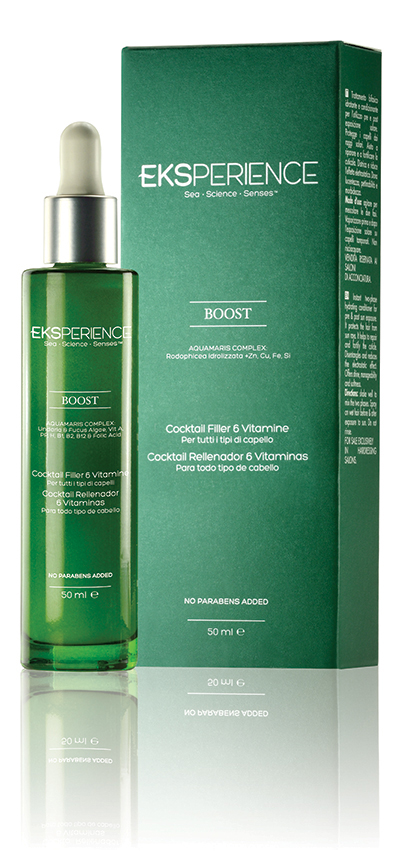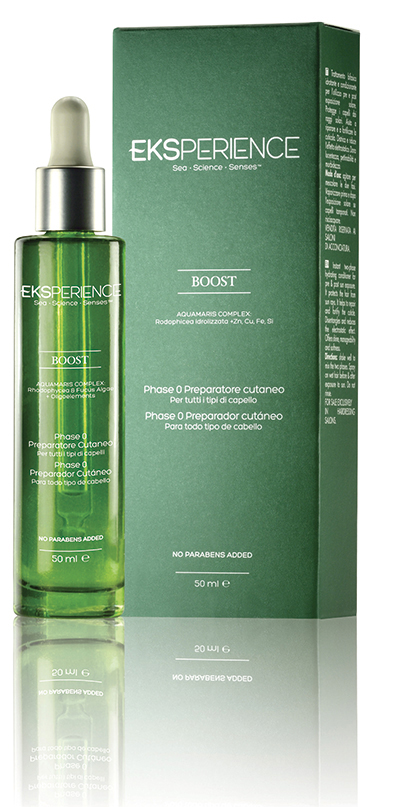 THE BEAUTY MULTI-TASKER
To Boost means to charge. Boost is a transversal (salon and home use) product range that can be used on its own or in combination with the various other EKSPERIENCE products, at any time when there is a need to purify, nourish, and give new vitality to the scalp and hair.
SEBUM CONTROL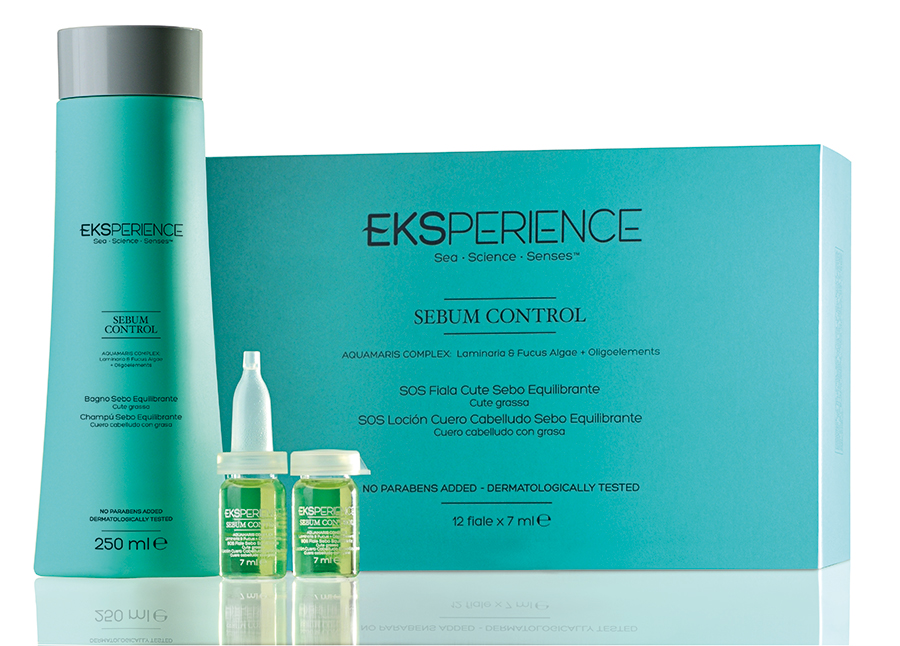 FOR OILY SCALP

When there is an abnormal production of sebum, the scalp and hair become oily. The sebum begins to smell unpleasant and irritates the scalp, causing the stem to become heavy and intractable, unable to hold its styling, and losing its natural softness.
The solution is SEBUM CONTROL, a product range formulated
to help control excess sebum and make the hair light, soft, and hydrated.
PURITY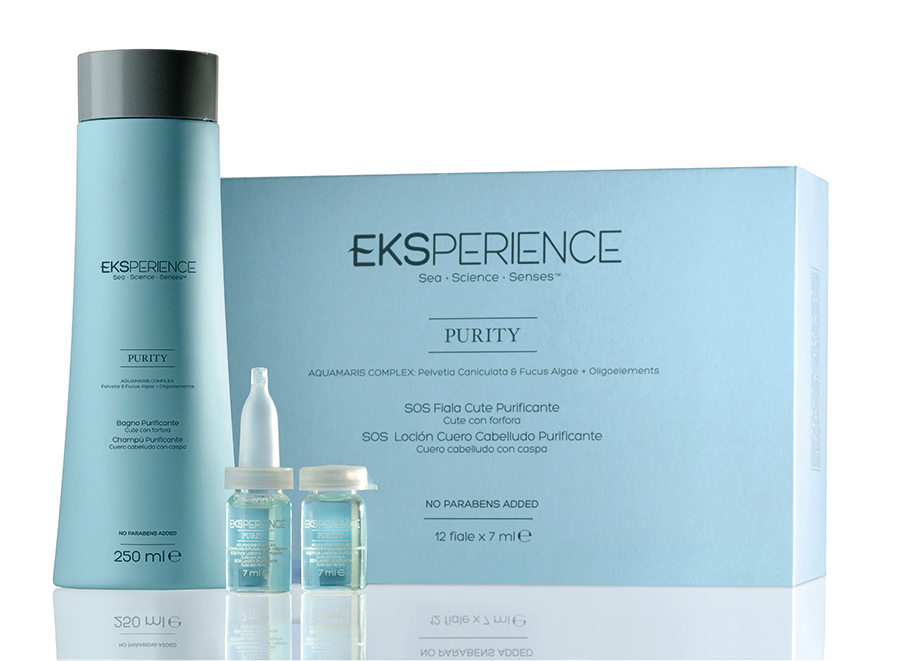 FOR DANDRUFF SCALP
Dandruff is caused by an increase of cells that have matured which instead of flaking off normally, remain on the scalp and form scales. These cause itching and dehydration. The solution is PURITY, a product range formulated to cleanse with maximum effectiveness.
SCALP COMFORT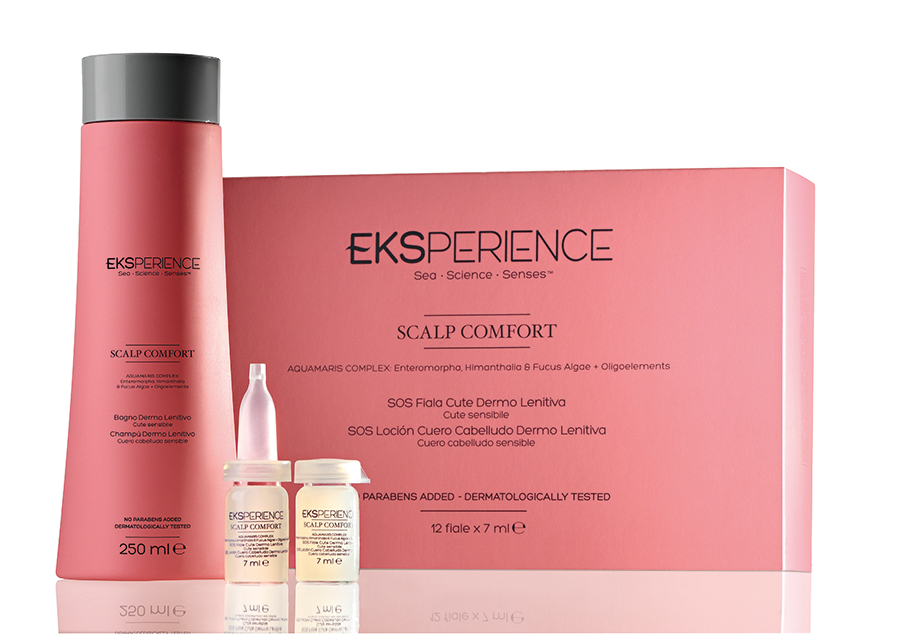 FOR SENSITIVE SCALP
A dry, sensitive scalp needs relief and well-being. The treatments must cleanse as gently as possible. The solution is SCALP COMFORT, a product rang formulated to soothe and moisturize whilst gently cleansing.
ANTI HAIR LOSS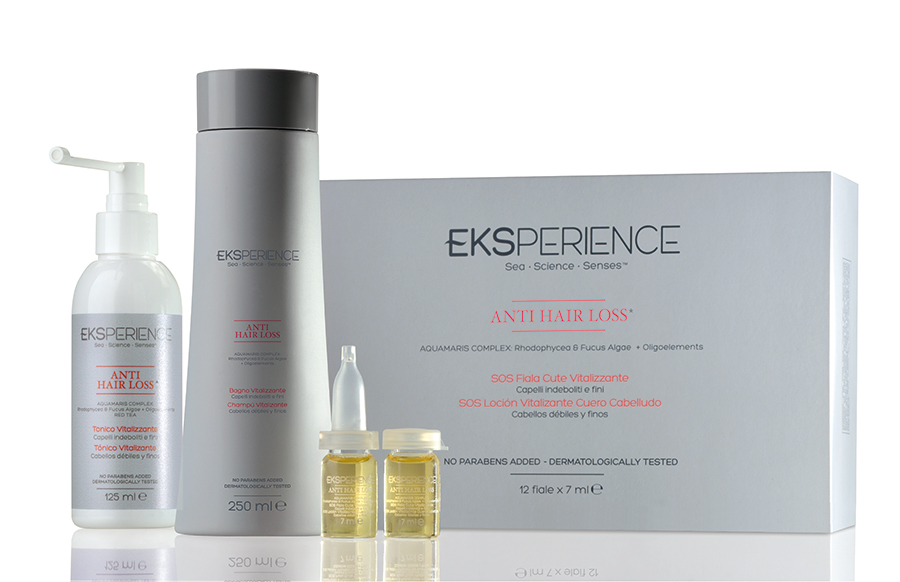 The hair loss problem affects men and women alike and can appear at any time of life. It is often related to factors that tend to become more pronounced as we grow older, such as the accumulation of free radicals or a failure of the collagen that keeps the hair anchored to the scalp. The hair loses vitality and either stops growing or grows thin and fragile, losing its elasticity and shine until it eventually falls out. The solution is EKSPERIENCE ANTI HAIR LOSS. This contains Hydrolyzed Rhodophycea Algae, which strengthens the hair fiber and has a re-mineralizing, astringent action on the scalp.
HYDRO NUTRITIVE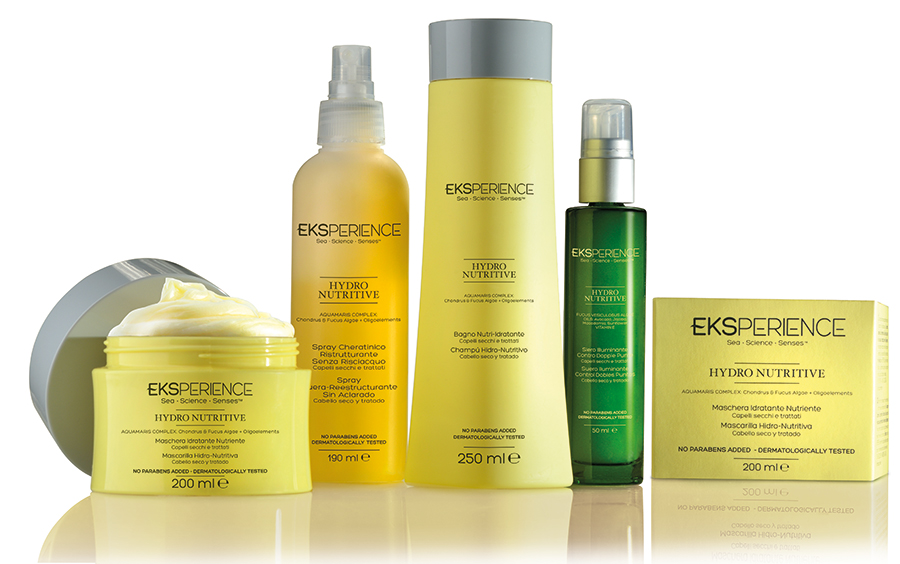 Healthy hair is shiny and soft because it contains the correct amounts of water and oil. Dry, damaged hair is caused by environmental or aggressive factors, or by too frequent chemical treatments that deplete and damage the hydrolipidic film, dispersing water and nourishment. The solution is EKSPERIENCE HYDRO NUTRITIVE, a treatment whose active ingredients help to nourish in depth with a re-mineralizing and hydrating action, delivering minerals that repair damaged hair.
COLOR PROTECTION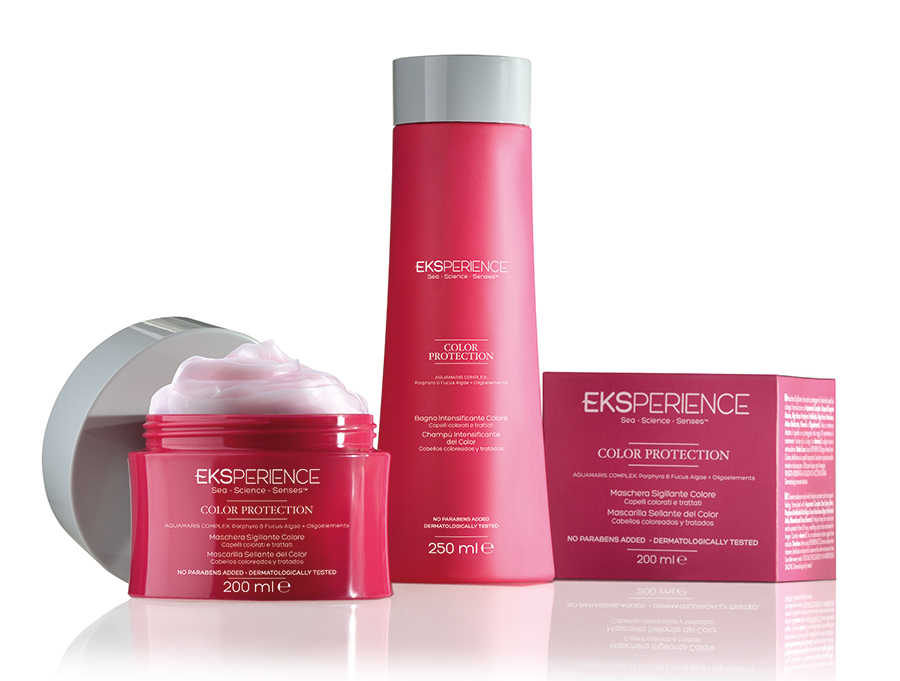 Colored hair is hair that has been treated. It requires targeted treatment that reduces color fading, maintains the color intensity for a long time, and repairs and hydrates the capillary fiber. The solution is EKSPERIENCE COLOR PROTECTION, a product range for colored and treated hair that creates a protective barrier to protect the color. Maintains color fastness for at least 5 washes, even when stressed.
DENSI PRO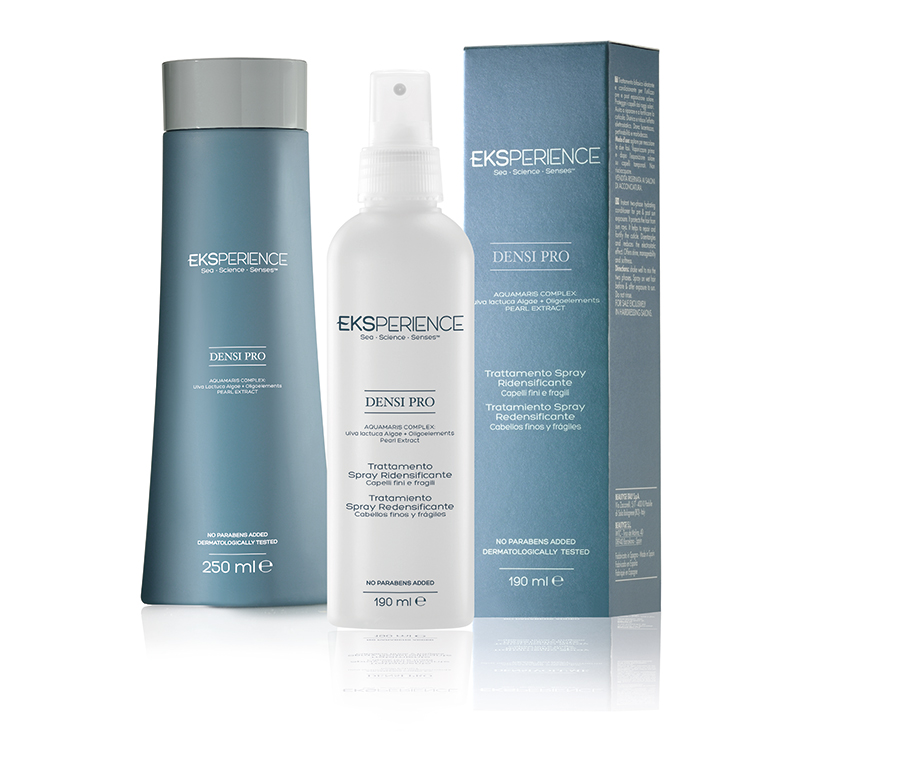 As we grow older the scalp becomes more sensitive and more easily irritable. Our hair looks thinner, becoming more fragile and more liable to break. The solution is EKSPERIENCE DENSI PRO, a formulation that gives body, vigor and vitality
to hair that has become thin and dry due to ageing.